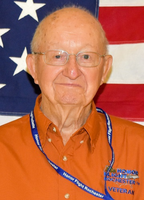 Michael J. Hursky
Michael John Hursky put down his pipe wrench for the last time on November 30, 2017. He was born in Cleveland, OH, on 13 October 1927 to William and Mary (nee Petrovani or Pyttowany) Hursky. He was a WWII-era Army veteran who earned the rank of Corporal while in service to the United States. In Cleveland, he met and married his wife of 47 years, Evelyn Dorothy Sullenberger. They and their four children lived in Cleveland until they moved to Strongsville, OH, in 1959. In the last couple of years, Michael moved to New York to be near his daughter.
As a teenager, he earned money to help his family by setting up pins in a bowling alley and by picking vegetables for a local farm. As an adult, he was a laborer and an insulator for Standard Oil of Ohio in Cleveland, OH (1948-1963). He joined General Motors in Parma, OH, in 1964 and retired from there in January 1990. During his employment, he earned his pipefitter license (1968), as well as traveled to Japan (1987) to understand the workings of a new press the company was about to install.
In his younger years, he loved to bowl in the winter and fish in the summer. He and his friends took a number of trips to Canada where they caught many fish and established life-long friendships.
He was a passionate Cleveland Browns fan who was not afraid to let people know that fact, even in Buffalo Bills territory. He enjoyed the beauty of nature, walking in the woods when he could, and gazing at the stars at night.
Michael is predeceased by his wife Evelyn (1998), his second son James William (1972), brothers William James (1989) and John Peter (2015), father William (1972) and mother Mary (1986).
He is survived by his children Michael (Sandra Showman) Hursky of Greensburg, PA; Alan of Jacksonville, FL; and Donna (Michael) Sutter of Greigsville, NY; grandchildren Holly (Kyle Presongna) Hursky, Michael, and John Hursky of Pittsburgh, PA, and Nicholas (Caekyn Disanti) Hursky of Virginia Beach, VA; David and Joseph Hursky of Cleveland, OH; Russell Sutter of Greigsville, NY, and Laura (Juan Guzman) Sutter of Buffalo, NY; great-grandchildren Chance, Rylee, and Sandro, all of Pittsburgh, PA. He is also survived by his best friend and love Rose Siska of Strongsville, OH; his brother George of Cleveland, OH; and twin sisters Stephanie Pierce of Creston, OH and Jennie Meyers of Brunswick, OH and many nieces and nephews.
Calling hours will be on Sunday, December 3, 2017 from 2–6 PM at the Jardine Funeral Home in Strongsville, OH. Funeral Mass will held on Monday, December 4, 2017 at 10 AM at St. John Neumann Roman Catholic Church in Strongsville, OH. Burial will be in Holy Cross Cemetery in Brook Park, OH.