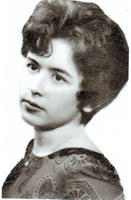 Joanne Pukas
Joanne Pukas, age 73, of Mt. Morris, died Saturday, November 11, 2017 at her residence. She was predeceased by her sons, Benjamin and James Pukas, sister, Gail Newcomb.
She is survived by her children, Betty Jean Wiseman of FL, William (Toby) Pukas of Mt. Morris, Rose (Jeff Petti) Pukas of Mt. Morris, 8 grandchildren, Jeremy, Kelsie, Billy, Logan, Allison, Diezel, James and Autumn, 12 brothers and sisters, Thomas ( Barb) Newcomb of Rochester, Nancy Newcomb of Retsof, James (Deborah) Newcomb of Leicester, Ellen (Andy) Fusco of Retsof, Rebecca Newcomb-Smith of Leicester, Kim Hanchette of Mt. Morris, Judy (Lee) Newcomb-Swanger of Leicester, Jeffrey (Thelma) Newcomb of Leicester, Joseph (Heidi) Newcomb of Leicester, Patrick Newcomb of Leicester, David Newcomb of Geneseo, Cathy Merritt of Leicester, numerous nieces and nephews.
Joanne was born August 17, 1944 in Little Falls, NY the daughter of James Kenneth and Anna Joan Fox Newcomb. She was retired from Seneca Foods in Mt. Morris.
Calling hours will be held on Sunday, November 19, 2017 from 1-4 PM at the Rector-Hicks Funeral Home, 111 Main St. in Geneseo. Memorial Services will be private at the convenience of the family.
In lieu of flowers, memorials may be made to the Livingston County Hospice Fund, 2 Murray Hill Dr., Mt. Morris, NY 14510.