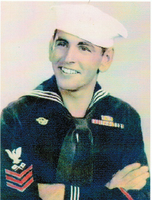 Hubert F. "Bert" Falardeau
Hubert F. "Bert" Falardeau, age 94, of Morgan Estates in Geneseo, died Saturday, October 21, 2017 at his residence.
He was predeceased by his daughter, Barbara Christodaro and sister, Alean Charles.
He is survived by his wife, Charlotte Falardeau, children, Susan (Donald) Gramlich of Rochester, Renee Falardeau of Rochester, John (Margaret) Falardeau of VA, Lisa Inzana of Rochester, James Falardeau of Rochester, many grandchildren and great grandchildren, sister, Kathleen (David) LeBerth of FL, step children, Juanita Toombs of FL, Yale "Skip" (Susan) Thomas Jr. of Lakeville, Rhea Henning of East Rochester, Craig (Sherry) Thomas of Avon, many step grandchildren and step great grandchildren, nieces and nephews.
Bert was born June 11, 1923 in Rochester, NY the son of Hubert and Rhea Sears Falardeau. He was a World War II Navy Pearl Harbor survivor. Bert was a supervisor at the 3M Company in Rochester before his retirement. He was an accomplished author, photographer and artist specializing in oil paintings. He was an avid golfer and member of VFW Post 5005 located in Geneseo.
Calling hours will be held on Saturday, October 28, 2017 from 2-4 PM at the Rector-Hicks Funeral Home, 111 Main St. in Geneseo where Military Honors will follow visitation.
In lieu of flowers, memorials may be made to VFW Post 5005, PO Box 221, Geneseo NY 14454.