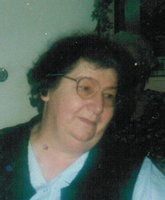 Diane A. Campfield
Diane A. Campfield, age 83, of Morgan Estates in Geneseo, died Saturday, October 21, 2017 at the Teresa House in Geneseo. She was a longtime resident of Westview Crescent in Geneseo before entering assisted living. She was predeceased by her parents, Charles and Josephine Aprile, and her brothers, Joseph, Richard and Robert "Benny" Aprile.
She is survived by her husband, Richard Campfield, her daughter, Anne Campfield of Geneseo, her brothers, Charles (Geraldine Ehrmentraut) Aprile of Avon, Ronald Aprile of Geneseo, several nieces and nephews.
Diane was born June 22, 1934 in Buffalo, NY, the daughter of Charles and Josephine Cipriano Aprile. She was a graduate of Geneseo High School and Rochester Business Institute. Diane retired from the Livingston County Department of Social Services in Mt. Morris.
No prior calling hours. Her Funeral Mass will be held on Thursday, October 26, 2017 at 10 AM at St. Mary's Church, 4 Avon Rd.in Geneseo with Father Edward Dillon officiating. Burial will follow in St. Mary's Cemetery in Geneseo.
In lieu of flowers, memorials may be made to the American Cancer Society, 1120 South Goodman St., Rochester, NY 14620.