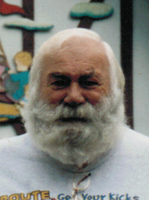 Frank T. Rose Sr.
Frank T. Rose, Sr., age 79, of Piffard, died Tuesday, September 19, 2017 at his residence. He was predeceased by his parents, Thomas and Carolyn Rose.
He is survived by his wife, Carol Morrison Rose, son, Frank (Andrea) Rose Jr, grandchildren, Morgan and Frank Rose III, sister Mary Grace Silfies, brother in law, Daniel (Chris) Morrison, several nieces and nephews and his special friend, Tyson.
Frank was born September 26, 1937 in Rochester, NY the son of Thomas A. and Carolyn Vangalio Rose. He was a Bus Driver for 32 years for York Central School. Frank was on the York Planning Board since its inception. He owned and operated The Barn Restaurant in Piffard for many years. Frank was well known throughout the area as Santa Claus.
Calling hours will be on Sunday, September 24, 2017 from 1-4 PM at the Rector-Hicks Funeral Home, 111 Main St. in Geneseo where Funeral Services will be held on Monday, September 25, 2017 at 10 AM. Burial will be in St. Mary's Cemetery in Geneseo.
In lieu of flowers, memorials may be made to the York Fire Department, PO Box 92, Retsof, NY 14539.