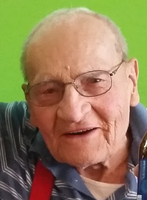 Richard L. Barber
Richard L. Barber, age 92, of Warsaw, formerly of Retsof, died Saturday, August 12, 2017 at the Wyoming County Community Health System in Warsaw, NY.
He is survived by his wife, Dorothy Barber of Mt. Morris, daughter, Diane (Chuck Northrup) Ashley of Wyoming, grandchildren, Joseph (Jule Thomm) Johnson of Lockport, Ashlee (Karl) Adams of Leicester, Robert (Valerie) Ashley of Webster, great grandchildren, Leila, Alexa and Cooper, many nieces and nephews.
Richard was born June 26, 1925 in Bloomfield, NY the son of Theodore and Myrtle Quick Barber. Dick retired from AKZO Nobel Salt Mine in Retsof after many years. He was a longtime member of the Retsof Fire Department. Dick was an avid outdoorsman and also a member of the York Sportsman's Club.
Calling hours will be held on Tuesday, August 15, 2017 from 4-7 PM at the Rector-Hicks Funeral Home, 111 Main St. in Geneseo. Graveside Services will be held on Wednesday, August 16, 2017 at 11 AM at St. Francis Cemetery in Leroy.
Memorials may be made to the Warsaw Rescue Squad, P.O. Box 22, Warsaw, NY 14569.