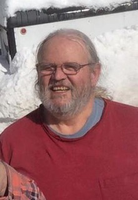 James A. Vitale
James A. Vitale, age 65, of York, died unexpectedly Monday, July 17, 2017 in Pennsylvania. He was predeceased by his father, Anthony "Butts" Vitale in 2010.
He is survived by his mother, Leah Wade Vitale of Piffard, children, Necole Vitale of Webster, Sebastian Vitale of New Orleans, LA, granddaughters, Rachel and Siobhan Hurley of MO, siblings, Patty Vitale of Omaha, NE, Tony (Donna) Vitale of Piffard, Terri (Joe) Pukos of Leicester, Mark (Erin) Vitale of Piffard, Paul (Bubi Canal) Vitale of New York City, many aunts, uncles, cousins, nieces and nephews.
Jim was much loved by everyone he touched and a vibrant member of every community and group in which he participated. Jim was born December 22, 1951 in Warsaw, NY the son of Anthony and Leah Wade Vitale. He was a York Central School Class of 1970 graduate; he attended Clarkson University before moving to Denver, Colorado, where his social activist came to life. From childhood through adulthood, he had a caring and warm spot for animals. He worked alongside his family at Vitale Brothers Construction and then as a Nurse Practitioner throughout the Rochester region. He volunteered at the Retsof Hose for many years and taught EMT classes for the Livingston County American Red Cross. Jim spent many hours volunteering at the Geneseo Parish Outreach Center. He was a dedicated avocational archaeologist, especially interested in prehistoric Native American studies and Iroquois history in the Piffard/Geneseo area. Jim was a very active member of the Genesee Valley Flint Knappers Association and enjoyed travelling interstate to flint knapping events. He was always ready and willing to chat, to teach, to heal, to listen. Jim's infectious smile, genuine love, thoughtfulness, kindness, caring and compassion will be missed by all who crossed paths on his journey.
Calling hours will be held on Thursday, July 20, 2017 from 4-7 PM at the Rector-Hicks Funeral Home, 111 Main St. in Geneseo. His Funeral Mass will be held on Friday, July 21, 2017 at 10 AM at St. Lucy's Church in Retsof.
Memorials may be made to the Genesee Valley Flint Knappers Association, 1960 Creekside Dr., Grand Island, NY 14072 or the Geneseo Parish Outreach Center, 4520 Genesee St., Geneseo, NY 14454.