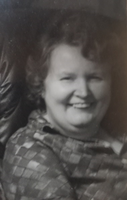 Nora J. Coleman
Nora Jane Coleman, a longtime resident of Craig Road in York, passed away on Friday May 12, 2017 at the Fairport Baptist Nursing Home in Fairport, NY. She was predeceased by her husband, Charles Edwin Coleman, her son, Joel Edwin Coleman and her parents, George and Lois Wombwell.
She is survived by her children, Evan (Kathy) Coleman of Hornell, Sherilyn (Craig Levin) Coleman-Ferrer of Pittsford, Wade (Lisa Robinson) Coleman of Clifton Springs and Lois Jeannine Smith of Penfield. She is also survived by her four cherished grandchildren, Rafael and Elena Ferrer, Mary and Joel Coleman, numerous nieces, nephews, cousins, long time best friend Gail (Winters) Dedman and special friend, Thomas Lefler.
Nora was born on August 8, 1938 in Rochester, NY the daughter of George and Lois Fordham Wombwell. She graduated from Perry High School, and from SUNY Geneseo. For much of her adult life she was a full time mother and homemaker, going to work at what was then Craig Developmental Center after her children were older. Nora retired from that endeavor in 1991. She was active in her community; serving on the York Central School Board; supporting the York Central School musical program and was a long time member of the York United Presbyterian Church. After she retired, Nora enjoyed her retirement years with her husband, her grandchildren and perhaps most of all, her long time neighbors and friends from York. Nora was always up for an adventure with local Senior groups, and the friends and neighbors she knew so well during her 50 some years on Craig Road. Nora loved gardening, baking and gave crafting her best efforts, much to her family's delight. She was a voracious reader, a lifelong learner, and a staunch advocate for those she felt needed support. She has been sorely missed by all for several years, as she suffered with the devastating effects of dementia, but we will all remember her big personality and love of life, family, and friends.
Calling hours will be held on Friday May 19, 2017 from 10 AM to 12 Noon at the Rector Hicks Funeral Home, 111 Main St. in Geneseo. Family, friends and neighbors are invited to join Nora's Family immediately afterwards at the Big Tree Inn in Geneseo to share lunch and happy memories, as Nora would have wanted us to do. Private interment will be in Prospect Hill Cemetery in Perry Center.