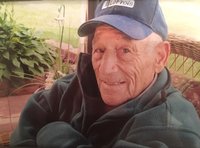 Nicholas J. Bucci
Nicholas J. Bucci II, age 90, of Nunda, died Friday, May 12, 2017 at his residence.
He was predeceased by his brothers, Joseph, Pat, Tony and Frank Bucci, sisters, Teresa Testa, Phyllis Klump and Alma MacLemale.
He is survived by his wife, Muriel Bucci, 7 children, Sharon (James) Fagan of Lakeville, Shirlee Bucci of York, Sandra (Robert) Schmitz of Milton, GA, Susan Bucci of Rochester, Nicholas Bucci of Nunda, Lisa (Raymond) Chamberlin of Geneseo, Timothy Bucci of York, 13 grandchildren, Michelle, Wendy, Jamie, Josh, Mac, Breze, Nick, Adam, Jesse, Tyler; Mere, Syd, Ray, 16 great grandchildren, Richard, Mike, Muriel, Eden, Will, James, Ava, Declan, Jakob, Nicolena, Cierra, Carrigan, Harper, Caiden, Lucas and Vera, many nieces and nephews.
Nicholas was born August 16, 1926 in Wadsworth, NY the son of Nicola J. and Nicolina Sarro Bucci Sr. He was a 1945 Graduate of York High School. Nick was a US Air Force World War II Veteran. He was a member of the York Sportsman's Club, the A-On-Do-Wa-Nuh Sportsman's Club in Cuylerville and a co-founder of the York Field Days.
Calling hours will be held on Tuesday, May 16, 2017 from 4-7 PM at the Rector-Hicks Funeral Home, 111 Main St. in Geneseo where Funeral Services will be held on Wednesday, May 17, 2017 at 10 AM with Father Edward Dillon officiating. Burial will be in St. Mary's Cemetery in Geneseo.
In lieu of flowers, memorials may be made to the Nunda Ambulance Corporation, PO Box 652, Nunda, NY 14517.