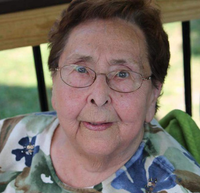 Marilyn E. Porter
Marilyn E. Taft Porter, age 88, of Geneseo, died Monday, May 1, 2017 at Strong Memorial Hospital in Rochester, NY.
She was predeceased by her husbands, Mortimer Taft and William Porter, step children, George Porter, Sandra Cramer and granddaughter, Katie Lynne Taft.
She is survived by her children, Thomas (Cheryl) Taft of Scottsburg, Gary (Lynn) Taft of Nunda, Wanda Schillinger of Dansville, Clint (Robin Kirkner) Taft of Geneseo, Clayton (Chris) Taft of Nunda, step children, Joyce Martin, Judy (Garth) Rauber, Jack (Sandy) Rauber all of PA, step daughter in law, Bobbi Porter of Irondequoit, many grandchildren and great grandchildren.
Marilyn was born October 8, 1928 in Livonia, NY the daughter of Harry and Clara Stevens Milliman. She was a Health Aide for Livingston County before her retirement.
Calling hours will be held on Friday, May 5, 2017 from 2-4 and 7-9 PM at the Rector-Hicks Funeral Home, 111 Main St. in Geneseo where Funeral Services will be held Saturday, May 6, 2017 at 1 PM with Sue Forsyth officiating. Burial will be in Mt. Pleasant Cemetery in Geneseo.
Memorials may be made to the Nunda Ambulance Corporation, PO Box 652, Nunda, NY 14517.